Best Fitbit Charge 3 Bands 2020
The Fitbit Charge 3 has been out for a while now and is now one of the most popular fitness trackers. The bands on the Fitbit Charge 3 are still changeable and since it's been released for a while, you can find plenty of options for replacement bands online. Here are what we think of as the top 5 replacement bands for Fitbit Charge 3.
If you've been wearing a rather sporty band and want to switch to something new, do try a Milanese loop strap. If you are intrigued, check out the Adepoy Milanese Loop for Fitbit Charge 3. It has a luxurious ring to it compared to other commonly seen TPU bands. And another significant difference between a Milanese loop and a regular band is that it's much easier to put it on and off and adjust thanks to the special quick-release mechanism. It also has other advantages like being very durable, breathable, and flexible. If you wear your Fitbit Charge 3 mostly for your workout session, a Milanese loop might not be the best choice. But it's one of the best options for a formal occasion or basically any other occasion other than a workout.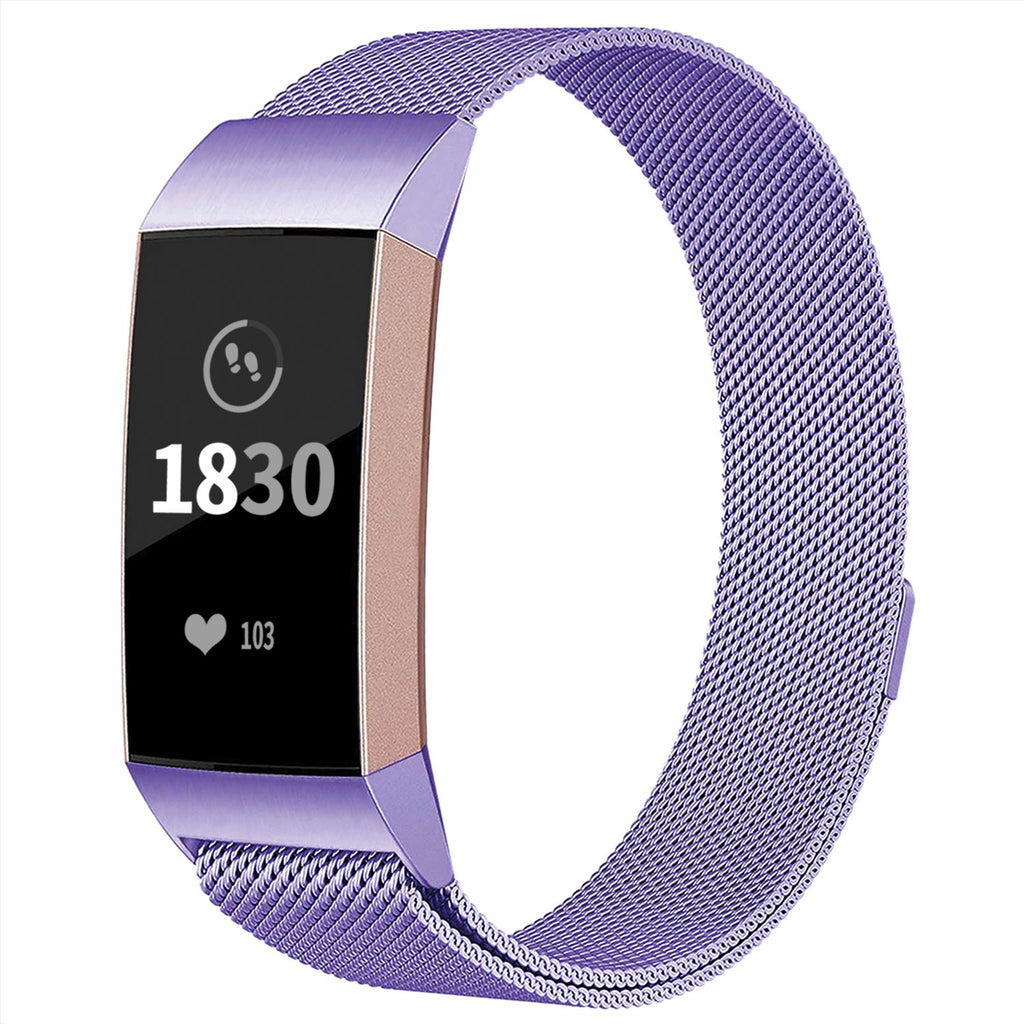 Aresh Stainless Steel Bracelet
Not a lot of third-party Fitbit Charge 3 band manufacturers will consider providing a metal band probably because most people wear it for sports or workout and metal straps just don't suit their needs very well. But it doesn't mean you can't find one metal strap for yourself for other occasions. The Aresh Stainless Steel bracelet is a very classy metal strap for Fitbit Charge 3. It comes in 3 classic colors for electronics products: black, silver and rose gold. This stainless steel Fitbit Charge 3 band is highly adjustable, and affordable as well. It's at a price point lower than you'd think. If you wear your Fitbit Charge 3 to work or out to dinner or other to formal occasions a lot, then you should totally consider getting a classy metal band like this.
Fitbit Woven Band
A woven band is the kind of strap that fits for almost all kinds of occasions. If you are interested in investing in a woven band, you can get it directly from Fitbit. A woven band is comfortable to wear and suitable for casual occasions. And it also fits well for formal occasions thanks to its stylish look. But since it's from Fitbit, just like any official accessories from any company, it's more expensive than bands from third-party sellers. But if you are the kind of person that uses one strap for all kinds of occasions, then this will be a great investment.
Adepoy Breathable Sport TPU band for Fitbit Charge 3
When talking about straps for Fitbit Charge 3, a sporty TPU band is something you can't skip. After all, it's primarily a fitness tracker and most people wear it when doing sports. If you work out a lot and get sweaty pretty easily, maybe you should consider using a silicone band with holes on it like the Adepoy breathable silicone band for Fitbit Charge 3. It's breathable and comfortable to wear during a workout. The color options are abundant. If you don't like wearing the same band for a long time, you can always get multiple bands and change them every day. It's sold at a low price so even if you want to get more colors, it won't cause you a fortune.
Yooside Leather Band
The last type of Fitbit Charge 3 replacement band we'd like to recommend to you is a leather band. Just like a metal strap, it's more suitable for formal occasions. It's not as breathable as a sport band so wearing it to your workout session can get uncomfortable. But leather does have a classy feel to it that makes it a great choice for occasions like work or a party or dinner. Even though the band looks luxurious, it is actually pretty affordable. There are only 3 colors available but it's normal for leather bands.
Don't know what band to choose for your Fitbit Charge 3? Adepoy.com has most of the bands you can find on the market. The good thing about having a Fitbit Charge 3 is that you can change the band when you feel like it and it will give you a whole new look and feel.